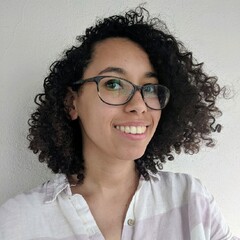 Melody Romero
CG Modeler at Walt Disney Animation Studios
Los Angeles, United States
About
My name is Melody Romero, and I'm a 3d environment artist, modeler and texture artist. I got into the world of CG art when I was a kid, and I started watching animated films. With their lush worlds and their larger than life stories, they inspired me to create.
I have a whimsical aesthetic, and I like to create imaginative pieces that have strong stories. I like fantasy and sci-fi, but I also like finding the wonder and stories in everyday, ordinary things.
I try to make pieces that inspire positive feelings and emotions, that inspire others to create. I'm very passionate about animation and working in CG. I'd love to hear from you and am always open to new and interesting opportunities!
Skills
Hard Surface Modeling
3D Modeling
Texturing
Rendering
Digital Sculpting
Lighting
Compositing
Software proficiency

Maya

ZBrush

V-Ray

Redshift

SpeedTree

Photoshop

Substance 3D Painter

Nuke

After Effects
Unreal Engine
SketchBook Pro

Houdini

Substance 3D Designer

UVLayout

Marvelous Designer
Reel